RIASEC Inventory
A Quick and Easy Assessment
The RIASEC Inventory
Uses Holland's RIASEC coding system and latest O*NET job titles
Scores into six interest areas: Realistic, Investigative, Artistic, Social, Enterprising, and Conventional
Quick, 4-page assessment takes only 10-15 minutes to complete
The Holland Code inventory gives individuals a fast and informative way to explore occupations based on their interests. Using the RIASEC system developed by John Holland--the most widely used occupational interest coding system available.
Use this inventory to identify their job interests.
Complete only 72 work activity statements.
Match results those interests to potential careers.
The Holland Code inventory, a quick and easy assessment, is perfect for job seekers who have little time to spend on testing and career exploration.
Support materials include -
RIASEC Administrative Guide
RIASEC Occupations List
RIASEC Inventory

$7.00$5.00 On Sale!




RIASEC Inventory with the Career Decision Making Course
$15.00




Career Decision Making Tools

The Career Decision Making Tools course is a step-by-step guide to explore careers and college majors.
Use the course to pinpoint -
Interests
Abilities
Skills
Talents
Values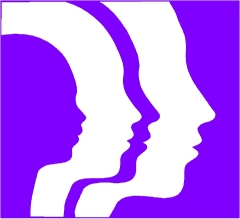 This Career Decision Making Course will motivate you as you explore careers and college majors.
The Career Decision Making Tools have 2 sections –
Awareness

, Assessment, and Knowledge Guide
Guide to

Career Exploration

and

Planning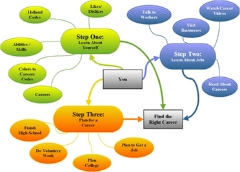 Awareness, Assessment, and Knowledge Parent, Teacher, and Adult Guide outlines the process of selecting a career assessment. The selection process includes –
Introduction to Career Planning

Steps to Self Awareness

Tools To Assess

Self Awareness

Selection of a Career Assessment or Test

Career Test Checklist

Features Of Career Self Assessments Tests
The Guide to Career Exploration and Planning is for teens or adults who need a manual that will guide them through the steps of career planning process.
The topics included in the Guide are -
Career Planning Map
Self-Analysis,

Self Awareness

, or Self Assessment
Career Exploration Tools
College Major Exploration Tools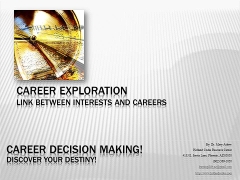 Career exploration tools provide the following information –
Overview
Skills
Values
Outlook
Earning
Interest Profile
Working Conditions
Contact Info
Areas of Study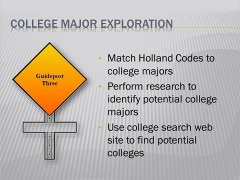 College exploration resources lists the following facts –
Location of School
Majors Areas of Study
Name of School
Size and Cost
Region in the USA
Type of School
View Career Decision Making Video. See Test Drive video.


RIASEC Inventory with -